General guidance in reopening labs/clinics
Social/physical distancing protocols
①Preventing physical contact especially of persons who otherwise would not have social contact.
②Minimizing duration of contact .
Personal protective equipment (PPE)
①Wearing face masks that should cover both mouth and nose.
②If appropriate, patients and participants may be provided with single use or disinfected multiple use masks by the neuromodulation labs.
③Medical and research personnel may consider wearing transparent visors, or protective eye wear covering the upper parts of the face and especially the eyes.
④Medical and research personnel should wear single use gloves when touching participants and patients.
Facilities and sanitization procedures
①Room dividers and transparent shields can be considered for installation in facilities that are not already designed for one-on-one visits.
②Provisions of hand washing opportunities, or hand sanitizers for patients and participants at the entrance to research and treatment premises, and they should be provided in a way that they can be regularly and easily used by medical and research personnel, after each new contact with a new person.
③Regular ventilation of research and treatment laboratories, regular disinfection of surfaces, such as doorknobs, apparel, furniture, research equipment and visors as well as shields, ideally after each use by a new person.
④In all cases, all research equipment should be sanitized/disinfected before and after use.
Vulnerable populations
①Individuals belonging to the groups (older age, a history of cardiovascular diseases and diseases affecting the respiratory system (e.g. asthma, smoking), but also diabetes, obesity and cancer or other diseases affecting the immune system directly or through immuno-depressant treatment, as well as individuals being in close regular contact with individuals) , should only enter studies or be treated under special circumstances and with utmost care.
②A logbook of each lab and treatment room should be maintained, listing personal interactions that took place so that in case of an infection, all persons in contact with the infected person can be traced back and informed about a possible infection.
Personnel, participant and patient screening
①Every person entering the research or treatment premises has to provide a symptoms-checklist, and take temperature measurements at the entrance to the research facilities.
New clinical opportunities (indications) with NIBS in the era of COVID-19
①Mental health care
In light of the potential surge of demand for mental health care, effective therapeutic options are critical. NIBS is a promising and versatile tool to consider.
Emotion regulation has improved in patients with anxiety disorders with the effects being sustained for 3 months after TMS. Depressive symptoms, anxiety and PTSD emerging or being accelerated by the COVID-19 pandemic might also be successfully mitigated with NIBS based on previous research.
②Cognitive impairment
Cognitive control is impaired in several conditions; however, NIBS has successfully ameliorated cognitive impairment in different patient groups .
③Motor performance
Furthermore, stress is also known to exacerbate disease-related symptoms such as the motor symptoms of patients with tic disorders or PD. Preliminary evidence indicates the beneficial effects of TMS on motor performance as well.
④ Neurological and Inflammation symptoms
Through the enhancement of neural plasticity, some COVID19-related neurological residual symptoms might be attenuated by NIBS. Anti-inflammatory potential and neurological utilization of NIBS might also be investigated.
Finally, there may be opportunities to apply NIBS in the broader context of changing medical protocols. A general feature of NIBS is its non-drug nonsystematic application nature, non-addictive nature, and ability to terminate or adjust dose (in clinic or remote for home-based treatment) and vice versa. Clearly, there is potential for NIBS as a unique treatment tool in the fight against the medical and psychological after-effects of the COVID-19 outbreak.
TMS new opportunities
1. Converting consent, screening, and follow-up visits to electronic, voice, or video forma
2. Utility of theta burst stimulation
Clinical trials applying TBS to the dorsolateral prefrontal cortex have demonstrated treatment outcomes with iTBS are comparable to treatment outcomes with traditional 10 Hz rTMS in major depressive disorder. Furthermore, these protocols have similar side-effects, safety, and tolerability profiles.
By using TBS , the number of patients treated per day with current rTMS devices can be increased several times without compromising clinical effectiveness or safety. In this COVID-19 era, one way to minimize the length of the time that a participant or patient has to be present in the room with a staff member would certainly be for investigators to consider using bursting frequency rTMS protocols. The shorter duration of the stimulation session also provides more flexibility when considering changes in workflow and schedules to ensure that patients do not overlap.
3. Accelerated TMS delivery
Previous studies have demonstrated that delivering multiple TMS sessions per day has similar efficacy to a single TMS session per day when the total number of TMS administrations is equal.These accelerated TMS protocols reflect dosing schedules that are likely more tenable for patients who likely have job and family responsibilities (often 3 days per week versus the standard 5 days per week).
4. Other technologies, such as neuronavigation, portable TMS
Protocol adaptations include greater reliance on neuronavigation for reliable and fast TMS coil positioning and the delivery of TMS in off-site community clinics wherein the participant may have less exposure to potential COVID-19 carriers in the hospital environment.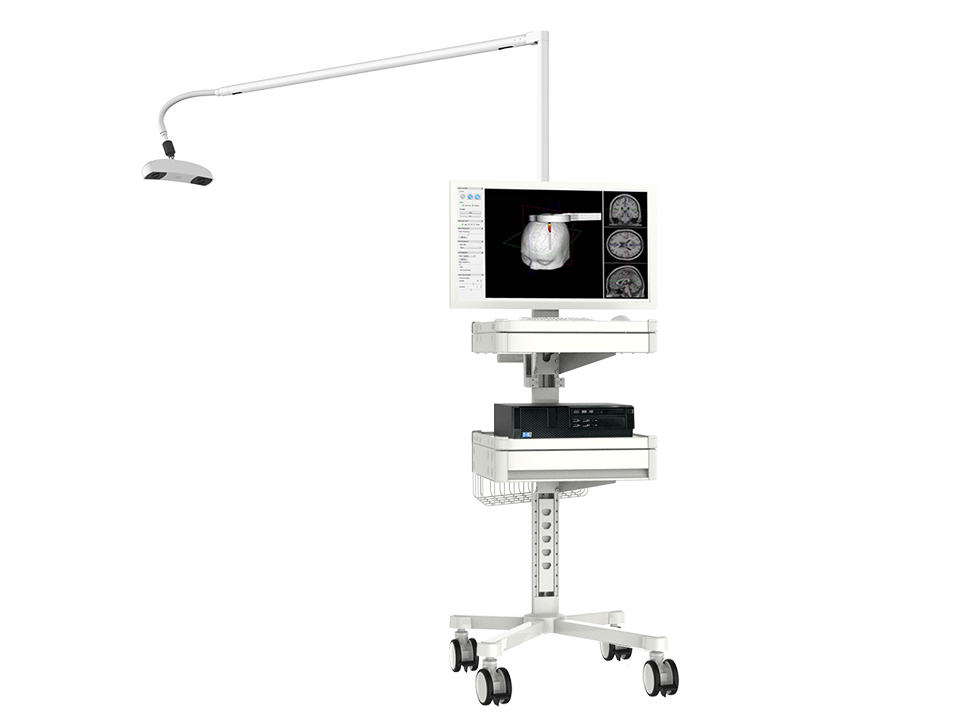 Perhaps the most provocative (but still chimerical) opportunity is for increased investment and innovation in a portable means for TMS delivery. The ability to distill the power of electromagnetic induction as a brain stimulation tool into a briefcase-sized device has the potential to revolutionize noninvasive neuromodulation as a field. It will, however, take talent, time, and investment to make this happen. One should also balance the safety balance of reducing exposure to the coronavirus with the exposure to the yet unclear risks of patient self-application of home-based TMS.
Reference
Bikson, Marom., Hanlon, Colleen A., Woods, Adam J., Gillick, Bernadette T., and Charvet, Leigh.. "Guidelines for TMS/tES clinical services and research through the COVID-19 pandemic." Brain stimulation 13.4(2020):1124-1149.