Transcranial Magnetic Stimulator E Series
YINGCHI TMS E-series is a novel form developed to better meet the needs of the treatment of brain diseases and brain scientific research. In addition to all the functions of the M series, the product performance has been further upgraded with more functions. With TMS E-series, doctors will enjoy a more professional and convenient user experience, and patients will be able to have safer and more effective treatment.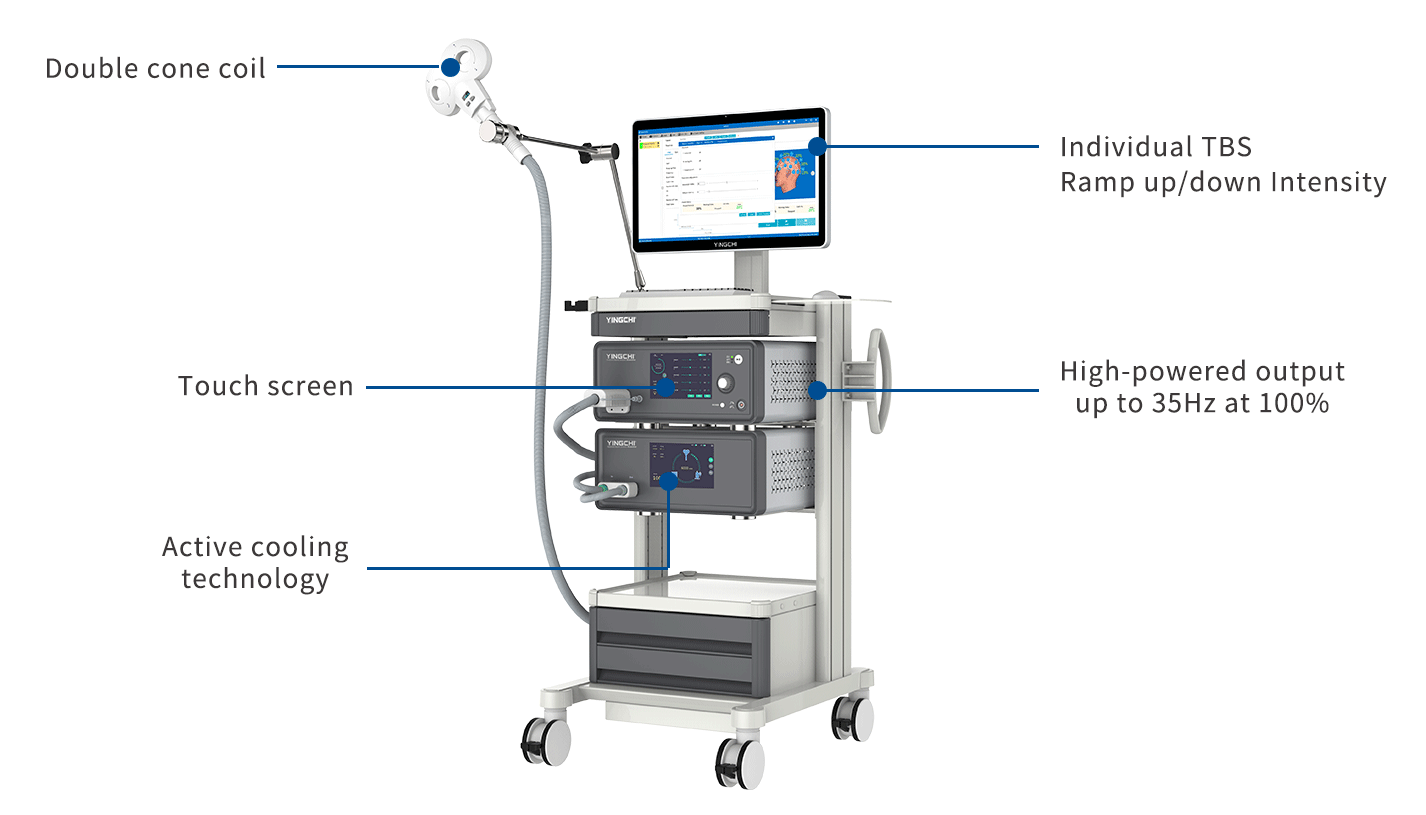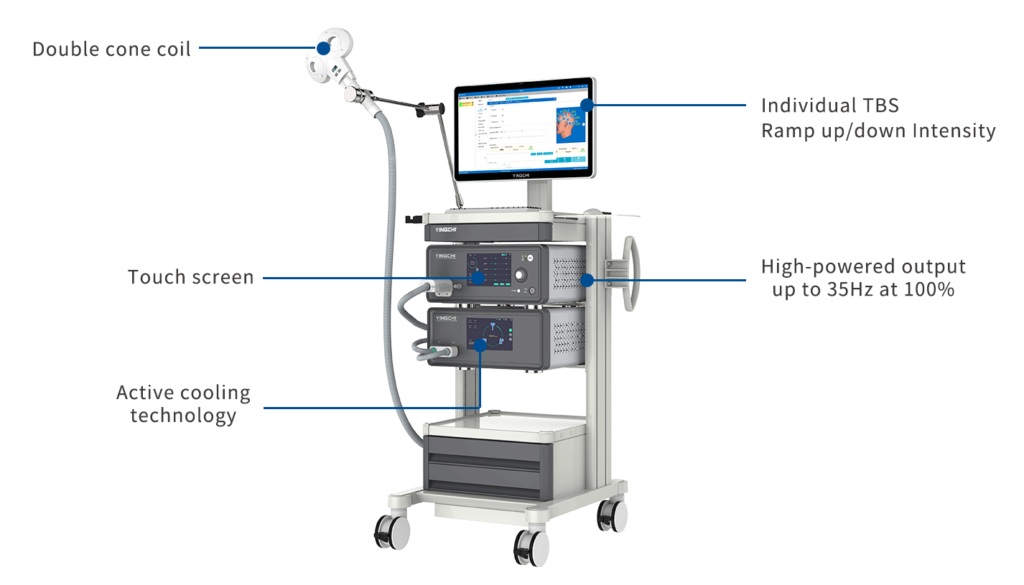 Features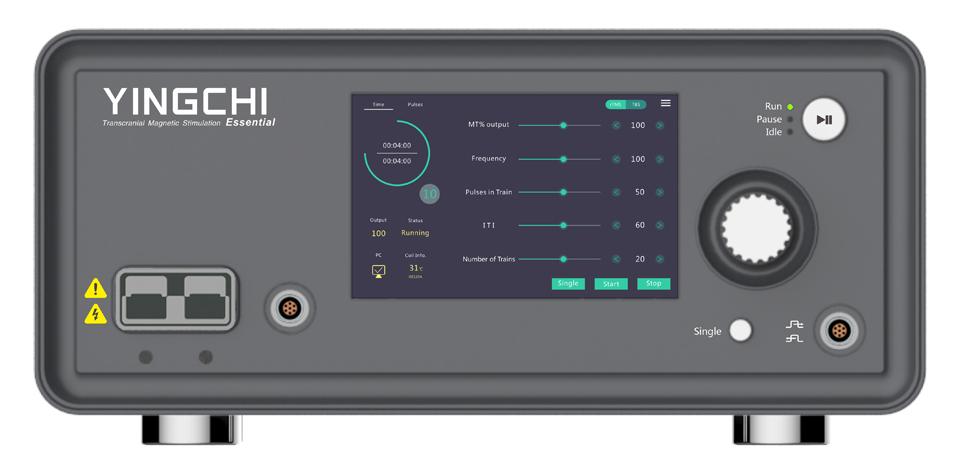 All round upgraded stimulator unit
->High stimulation frequency: The E series stimulator allows performing stimulation at up to 100 Hz frequency and 35Hz at 100% output without extra power supply.
In addition to satisfying the central nervous system modulation, it can also meet the high-frequency and high-intensity continuous peripheral stimulation.
->Intuitive interface: with touch screen, it is easy to adjust the stimulation parameters and select protocols.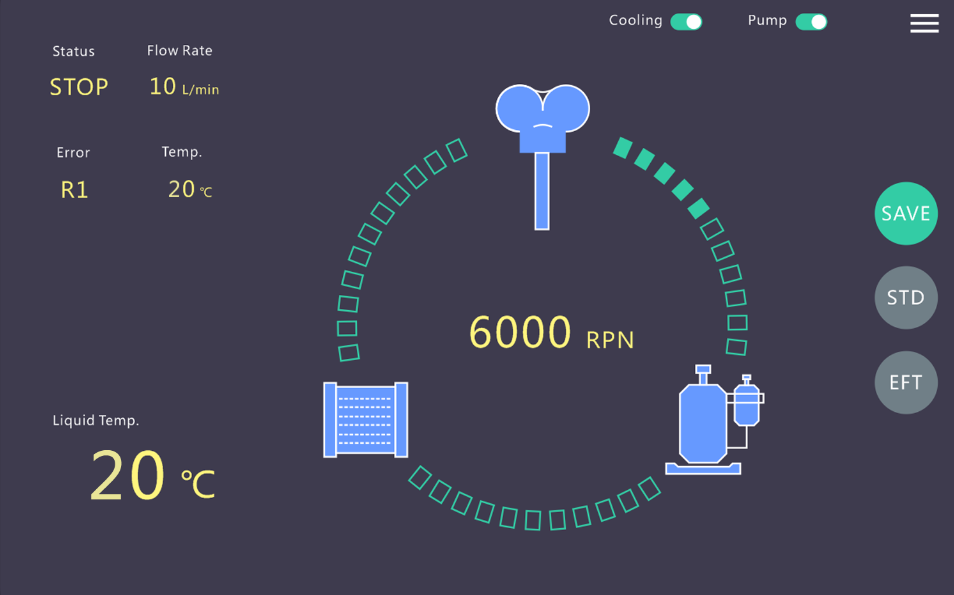 Innovative liquid cooling system
->The IV generation cooling technology: allows continuous pulses during high frequency&intensity rTMS session.
->Multiple modes of cooling: there are energy-saving mode, standard mode and efficient mode which can auto-set according to different scenes.
->Zero-maintenance: one click to replace liquid if need.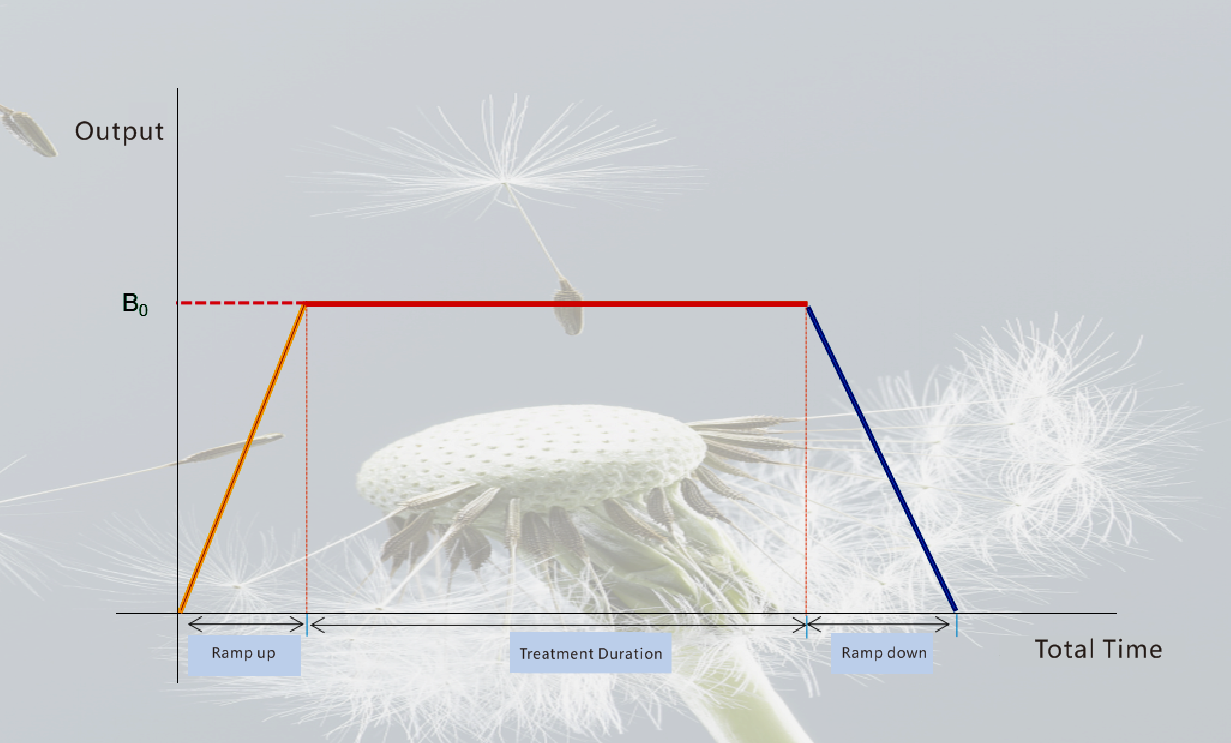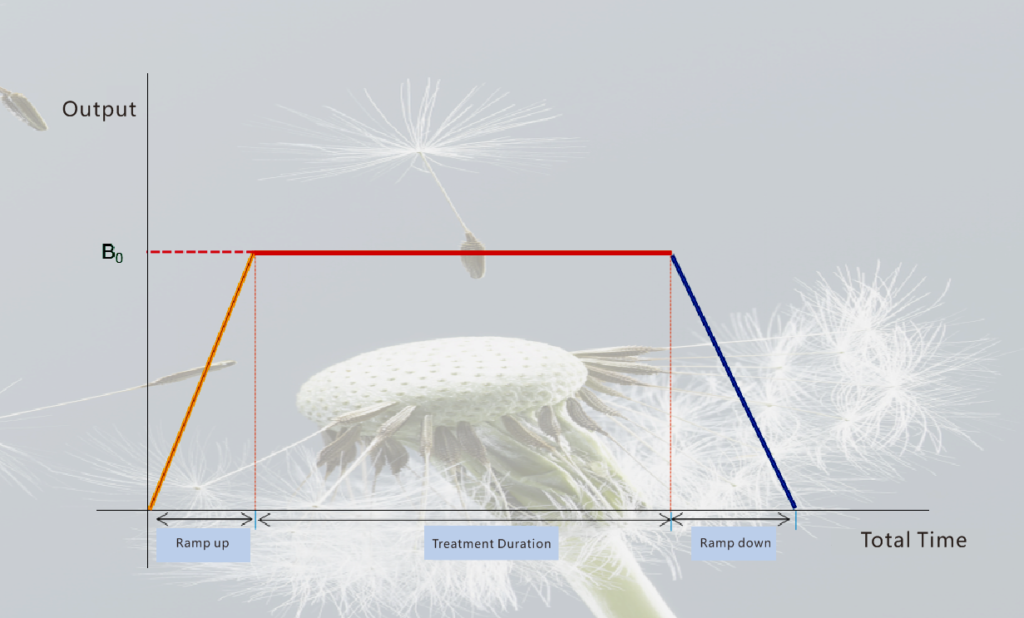 New possibilities of stimulation
->Individual TBS mode: currently the standard TBS is with 50Hz burst frequency. E series makes customized TBS be possible which will be a helpful tool for professionals to tap new possibility in research.
->Ramp-up/down intensity and frequency: can set up freely the ramp up/down duration of frequency and intensity, which reduce muscle habituation to the stimulation in rPMS and decrease the discomfort of patients.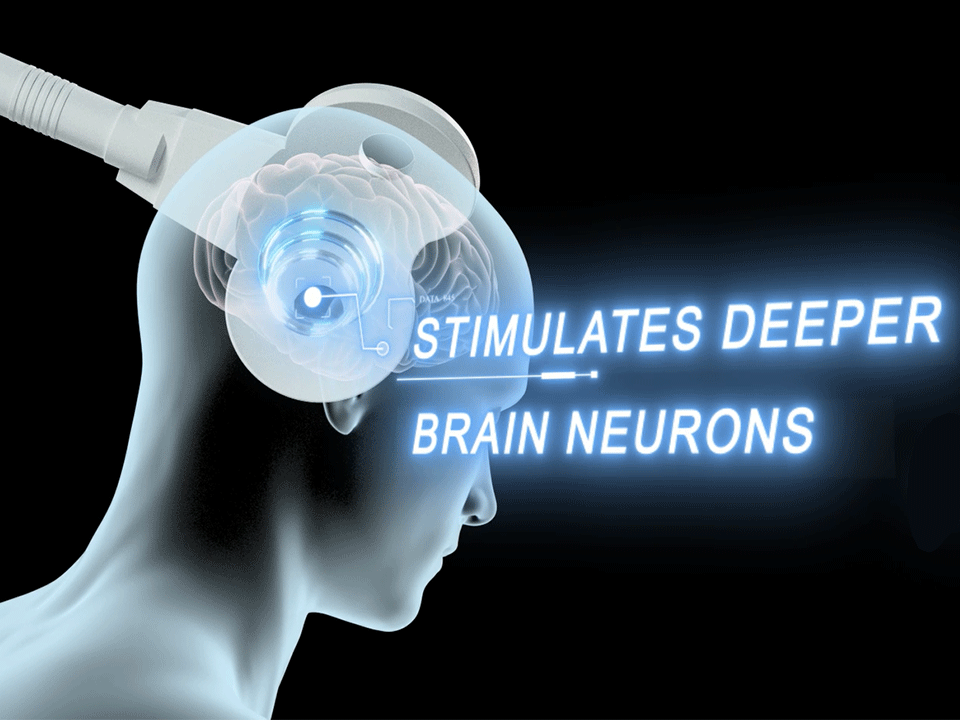 New generation coil
Double cone coil has been shown to induce higher and wider spread electrical fields that has better ability to stimulate deep brain subregions. It achieves the best balance of stimulation depth and focus.
->Benefits earlier
->Hurts less
->Deeper stimulation
->Light weight, easy to use
->Ergonomical shape, better contact
Applications
Scientific Researches
People has never stopped the exploration of learning and memory. In recent years, it has been confirmed that TMS can regulate learning and memory, attention, executive function, etc. TMS is mainly used in cognitive neuroscience research, sports rehabilitation research, brain function research, psychiatry and pharmacology research, such as neuroplasticity research, brain function connection, etc.
Diagnosis
In disease diagnosis, TMS is used as a clinical research tool to assess cortical processing time, cortical connectivity, cortical inhibition and excitability, and cortical interactions. TMS can be used to diagnose the following items:
√ Motor evoked potentials,MEP
√ Resting motor threshold,RMT
√ Central motor conduction time,CMCT
√ Cortical silent period, CSP
√ Peripheral TMS, pTMS
Clinical Treatment
Application Fields
Diseases

Psychiatry

Major depressive disorder, MDD

Obsessive-compulsive disorder, OCD

Post-traumatic stress disorder, PTSD

Generalized anxiety disorder, GAD

Schizophrenia

Substance dependence

Sleep disorders

Neurology

Rehabilitation

Post-stroke dyskinesia of the upper limbs

Post-stroke dyskinesia of the lower limbs

Post-stroke dysphagia

Post-stroke aphasia

Post-stroke hemispatial neglect

Post-stroke central pain

Post-stroke depression

Pediatrics

Autism spectrum disorder, ASD

Cerebral palsy, CP

Attention deficit hyperactivity disorder, ADHD

Tourette syndrome, TS

Language retardation

Pain

Migraine with aura

Neuropathic pain

Central pain

Fibromyalgia

Orofacial pain

Phantom pain

Low back pain

Spinal Fascial Pain Syndrome

Pelvic pain

Complex regional pain syndrome

Postherpetic neuralgia

Neuralgia after brachial plexus injury

Postoperative pain

Somatoform pain disorder

Knee Osteoarthritis

Hemiplegia shoulder pain

Sleep Center

Insomnia

Insomnia accompanied by anxiety

Obstructive sleep apnea syndrome

Restless Leg Syndrome

Narcolepsy

REM sleep behavior disorder
FAQs
What Is Transcranial Magnetic Stimulation?
Transcranial magnetic stimulation (TMS) depolarizes neurons through electromagnetic induction, which easily penetrates the skin, skull, and cerebrospinal fluid. TMS offers unique, non-invasive measures of neurological function, as well as the possibility to locally enhance or inhibit cortical activity. With the development of TMS technology, repetitive transcranial magnetic stimulation (rTMS) with continuously adjustable repetitive stimuli has emerged and gained increasing acceptance in the fields of clinical psychiatry, neurological disorders and rehabilitation. It mainly achieves the purpose of treatment through different frequencies. High frequency (>1Hz) is mainly for excitation, and low frequency (≤1Hz) is for inhibition.