Transcranial Direct Current Stimulator E2000
Ⅰ. Introduction
Transcranial direct current stimulation (tDCS) is a non-invasive brain stimulation technique that applies a specific, low-intensity electrical current (usually 1-2 mA) to specific brain areas through electrodes placed on the skull, which can modulate neural activity in the cerebral cortex.
YINGCHI tCS-E2000 can be used for both scientific research and clinical treatment. It is safe, efficient, non-invasive, easy-to-use and of low cost, which can even store treatment records. This electrical stimulator is equipped with wireless Bluetooth technology, allowing users to operate 32 electrical stimulators at the same time, and each electrical stimulator can perform any treatment protocol.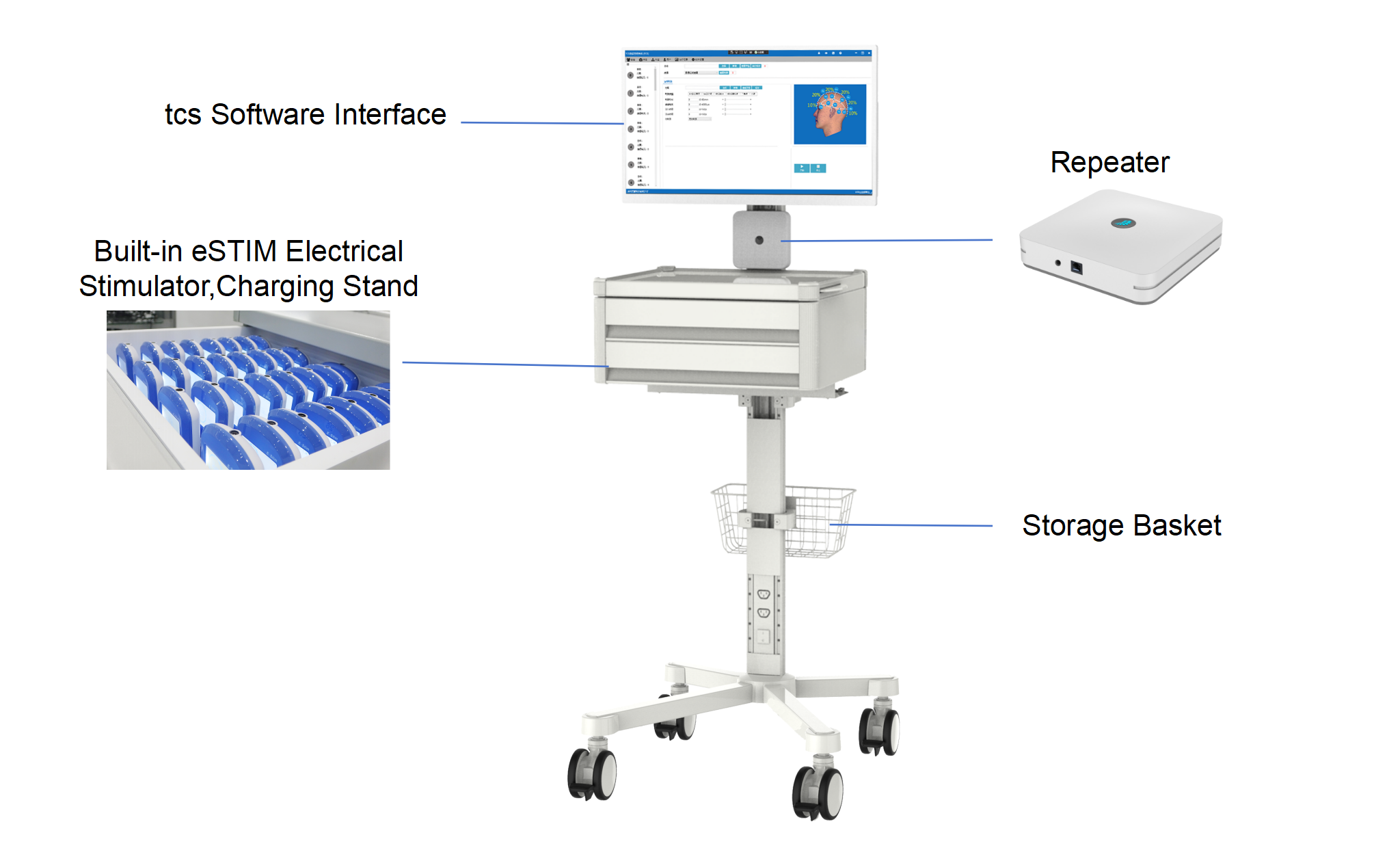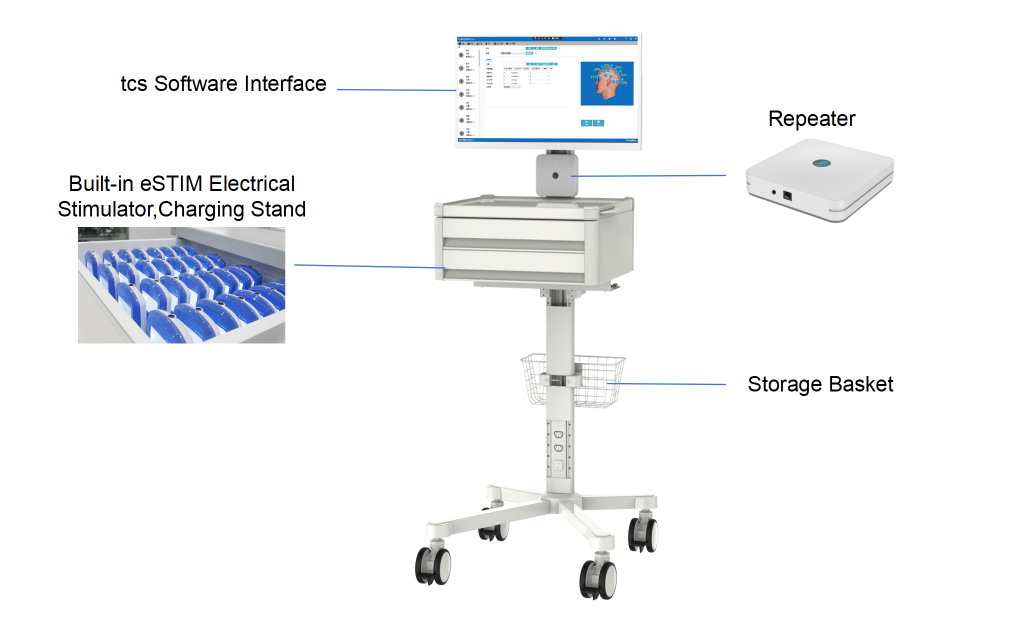 Ⅱ. Features
Stimulate 32 Patients at One Time
Wirelessly connect up to 32 electrical stimulators.
Wireless Control
· One PC can control equipment in multiple rooms, reducing the need for labour;
· One PC can control equipment in multiple rooms, reducing the need for manpower;
· Real-time monitor, view the usage of multiple devices at the same time;
· Unified record of equipment usage. Facilitate treatment data collection and analysis;
· Off-line operation.
6 Modes
There are 6 kinds of stimulation waveforms including DC, sine, noise, triangle, multi-pulse and square wave.
Sham Stimulation
Sham stimulation mode.
Others
· Offline storage of user treatment records
· Electrode polarity switching
· Single and dual-phase adjustment function
· Electrode contact quality control
· Online automatic storage of treatment records
· Real-time current detection
· Elapsed time display
· Hand-held with 4 hours of battery life
· External trigger
Ⅲ. Applications
Scientific Research
1. Sports Research
① Improve muscle performance
② Delay exercise fatigue
③ Promote the acquisition and adaptation of motor learning
2. Cognitive Research
① Improve working memory
② Improve concentration
③ Improve visual perception ability
④ Improve decision-making ability
3. tDCS combined with neuroimaging
tDCS combined with EEG:
· The "offline" approach, with EEG recordings following tDCS stimulation to assess short- and long-term aftereffects of tDCS induction;
· The "online" approach, with EEG recordings during tDCS stimulation, to assess the ongoing changes that occur during tDCS stimulation.
tDCS combined with fNIRS:
· Affordable, non-invasive, and portable;
· Optical and does not interfere with the current of tDCS;
fNIRS has been applied to various studies, including studies of cortical plasticity and resting-state functional connectivity;
· Although fNIRS is limited to cortical imaging at moderate spatial resolution, it has the potential to provide high activation-related signal detection sensitivity and high temporal resolution.
· fNIRS is able to detect event-related optical signals that occur within a few hundred milliseconds and correlate with evoked potentials measured by synchronized electroencephalography (EEG), much faster than fMRI's second resolution.
tDCS combined with fMRI:
· Research on montage selection: functional imaging helps montage selection locate the brain regions that stimulates target functional activation;
· Predictive studies: Baseline fMRI can provide baseline measures of neural network activation and inform later interpretation of behavioral/neural responses to tDCS (i.e. "baseline fMRI can serve as a predictor");
· Mechanism research: Use functional magnetic resonance imaging to study brain changes under the effect of tDCS, and ultimately determine where, when and how stimulation affects brain function and related behaviors.
Clinical Applications
Departments
Indications

Psychiatry

Neurology

Pediatric

Autism Spectrum Disorder, ASD

Cerebral Palsy

Attention Deficit Hyperactivity Disorder, ADHD

Tourette Syndrome