Transcranial Direct Current Stimulator E1
tDCS (Transcranial Direct Current Stimulation) is one of non-invasive brain stimulation (NIBS), which is considered a safe form of brain stimulation with minimal risks of injury. It transfers weak electrical current (0-2 mA) to specific regions of the brain via electrodes on the scalp, by either activating (the positive electrode) or inhibiting (the negative electrode) cortical activity to change neural activity and cortical excitability.
As being a low-cost, small-size, and patient-wearable equipment, tDCS allows distribution of machines for home use, which is not the case for rTMS. Its safety, effectiveness and affordability make it significant and widespread to the home-used market.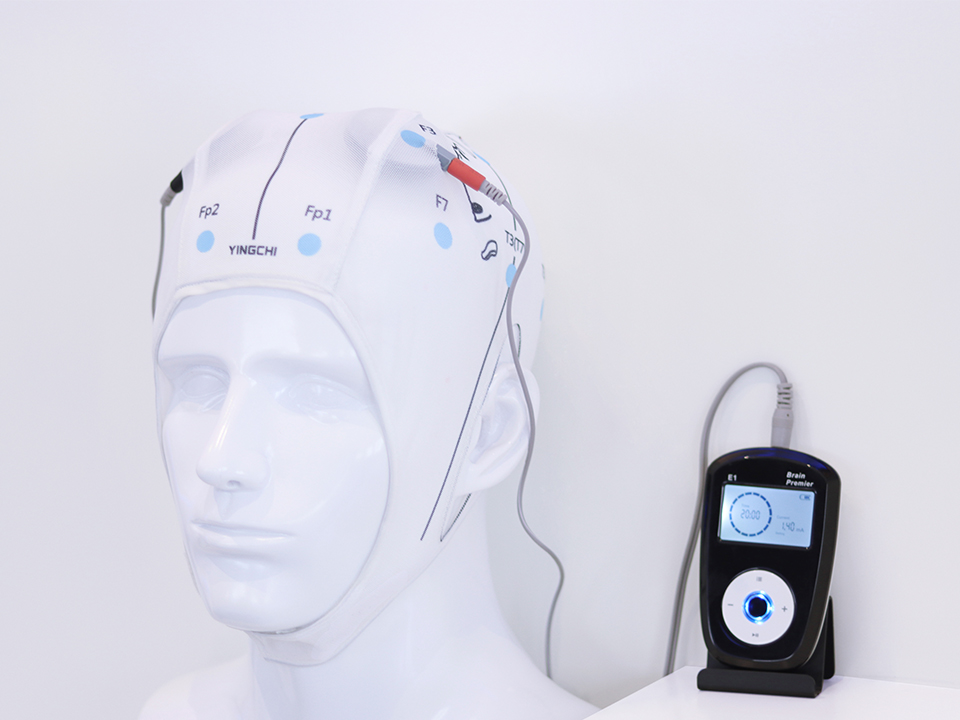 Application
Pain Reduction
It probably helps those suffering from Pain caused by Fibromyalgia, Spinal cord injury, Low back pain, Phantom limb, Chronic stroke, Chronic post-stroke pain, etc., by improving motor recovery, motor skills and motor learning.
Improved Attention
Memorization and Learning: DCS is being used to help people think quickly, flexibly and pay attention, which boosts memory. It could also improve the speed of learning like calculation, a new language.
Improved Mood
Reduced Depression and Sleepiness: It could help those suffering from depression by regulating moods to make them be happier and more energetic. It could also be a promising approach to modulate the quality of sleep or improve symptoms in some sleep disturbances, such as insomnia.
Reduced Craving and Addicting Behaviors
It could be used to reduce craving and addicting behaviors for cigarettes, alcohol and food and etc.Those who has risky behaviors leading to negative real-life consequence might benefit from such neuromodulation-based approaches.
Note: We design and produce it for home applications. Please kindly note that tDCS therapy has not been approved by the FDA. It is not recommended to use for the treatment of any medical condition.DCS is a safe technique, but do not use it unless you have a full understanding of tDCS and its any risks or concerns.