The aftereffects of COVID-19 are emerging around the world,
Tens of millions of recovered people are still experiencing long-term pain!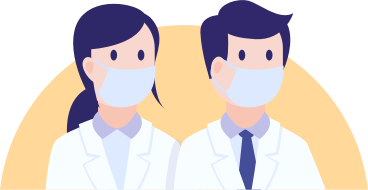 The coronavirus pandemic is nearing the end of its third year. More than 600 million people have been infected and more than 6.55 million have died, according to the World Health Organization (WHO). Meanwhile, an increasing number of COVID-19 patients are experiencing sequelae...
In October 2021, the World Health Organization (WHO) issued a clinical case definition of COVID-19 sequelae, which refers to symptoms that appear 3 months after SARS-CoV-2 infection, last for at least 2 months and cannot be explained by other diagnoses. This is often referred to as long COVID-19.
On 10 October 2022, the Journal of the American Medical Association published online a large global study led by WHO that is considered the most comprehensive analysis of the sequelae of COVID-19 since the pandemic began. The study pooled 44 published papers, 10 national collaborative studies, and two electronic medical records databases, covering health data of about 1.2 million people infected with COVID-19 in 22 countries, used the model to estimate that 6.2% of people living with COVID-19 in 2020 and 2021, and more than 74,000 people reported having at least one COVID-19 sequela three months after their first infection.
In the following, we summarize the research data published in JAMA, Lancet and other authoritative journals, and share the sequelae of COVID-19 from different dimensions.
No.1 What are the common symptoms of the sequelae of COVID-19?
Persistent fatigue with physical pain or mood swings
Cognitive problems (forgetfulness or difficulty concentrating, often called brain fog)
Persistent breathing problems
Sleep problems (insomnia, etc.)
Mood disorders (anxiety, depression, etc.)
It is estimated that 1 in 10 people suffer from a mental disorder; That means 970 million people in the world. According to the World Health Organization's (WHO) "Mental Health and COVID-19: Early Evidence on the Impact of the Pandemic: A Scientific Brief", published earlier this year, global cases of major depressive disorder (MDD) increased by 27.6% in 2020 and those of anxiety disorders by 25.6% due to the COVID-19 pandemic.
In addition, there may be nearly 200 kinds of symptoms such as hair loss, smell disturbance, palpitations, joint pain, loss of appetite, taste disturbance, dizziness, headache, nausea and vomiting, chest pain, swallowing disturbance, rash, myalgia, etc. Simultaneously affects multiple tissues and organs of the human body, involving the central nervous system, peripheral nervous system, gastrointestinal tract, heart, musculoskeletal, etc.
No.2 What are the distribution characteristics of COVID-19 sequelae among the infected population?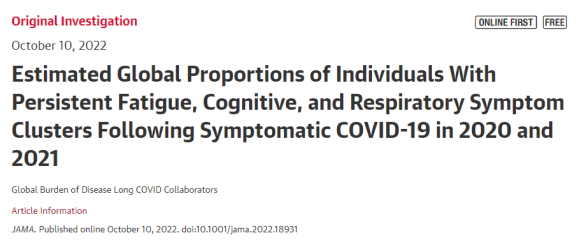 According to data from the latest study in the Journal of the American Medical Association:
① The incidence of long COVID-19 is related to the severity of infection
For those who were not hospitalized, hospitalized, and admitted to ICU for treatment, the incidence of long COVID-19 was 5.7%, 27.5%, and 43.1%, respectively. The duration of COVID-19 was about four months for unhospitalized patients and nine months for hospitalized patients, and 85 percent of the patients were relieved after one year.
② The incidence of long COVID-19 also showed gender and age differences
Globally, an estimated 63.2% of long COVID-19 patients are women, with people under 20 also at lower risk.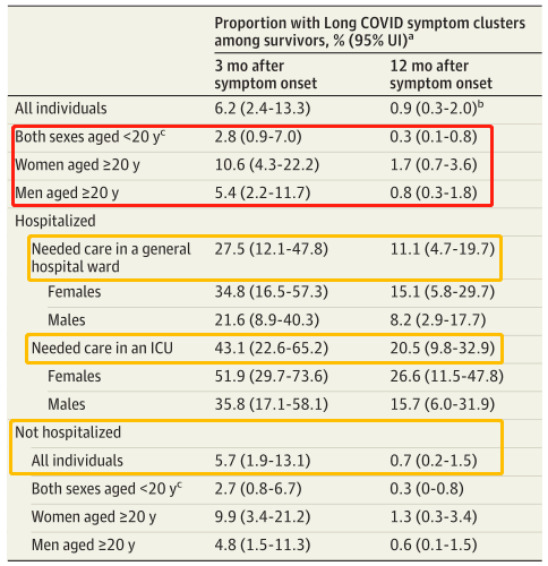 Global proportion of individuals with at least one of three long COVID symptom clusters
In addition, relevant investigations and clinical practice in Israel suggest that the threat of COVID-19 to children may be seriously underestimated.
In September 2021, Israel's Health Ministry released data from a telephone survey of 13,834 parents of children who had recovered from COVID-19: 11 percent of COVID-19 patients between the ages of 3 and 18 continued to show symptoms after recovery. According to the data:
① The older children are, the more likely they are to have long-term sequelae.
Sequelae lasted for six months in 1.8% of patients aged 3-6 and 4.6% of those aged 12-18.
② Patients with symptoms are more likely to have prolonged sequelae than asymptomatic patients.
Long-term sequelae occurred in 5.6% of symptomatic patients aged 12 to 18 years, compared with 3.5% of asymptomatic patients in the same age group.
No.3 What is the research status of sequelae of COVID-19 in China?

On May 11, 2022, a research team from the National Center for Respiratory Medicine of the China-Japan Friendship Hospital published a two-year follow-up study of inpatients with new coronary pneumonia online in The Lancet. The study followed 1192 patients hospitalized in Wuhan from January 7 to May 29, 2020.
The results showed that 55% of the more than 1000 follow-up subjects still had sequelae. These patients had worse quality of life and exercise capacity, more mental health problems, and more post-discharge health care needs than patients without long-term symptoms of COVID-19.
The most common sequelae were fatigue or muscle weakness (30%), difficulty sleeping (25%) and anxiety or depression (12%).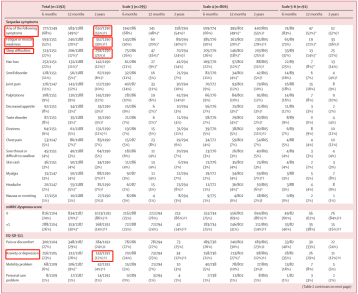 Epidemic symptoms and health-related quality of life in COVID-19 survivors at 2-year follow-up
Compared with healthy controls, COVID-19 survivors still had more prevalent symptoms and more problems with pain or discomfort, as well as anxiety or depression, and lower median self-assessment scores on quality of life after 2 years.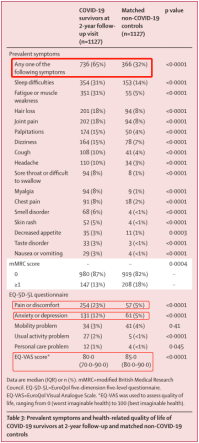 Compared with male patients, female patients are more likely to have sequelae symptoms of COVID-19.
Compared with men, the OR (oods ratio) of women with long COVID-19 was 1.65 (95%CI, 1.41-1.92), the fatigue or muscle weakness was 1.29 (1.10-1.52), and the anxiety or depression was 1.94 (1.59-2.37), the lung diffusion disorder was 2.86 (1.92-26.26).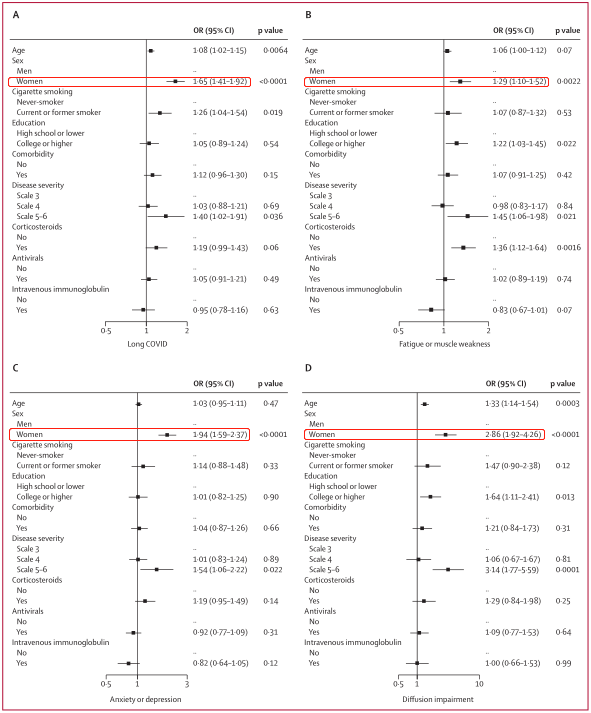 Risk factors for prolonged COVID, fatigue or muscle weakness, anxiety or depression, and pulmonary diffusion disorders.
No.4 The sequelae of COVID-19 may become a big problem. How will countries deal with it?
China
In May 2020, the National Health Commission, the Ministry of Civil Affairs, the National Medical Insurance Administration and the National Administration of Traditional Chinese Medicine jointly issued the Rehabilitation Treatment Plan for Discharged Patients with Major Functional Disorders of COVID-19.
The plan regulates the main manifestations, assessment methods and rehabilitation training methods of respiratory function, cardiac function, physical function, psychological function and activities of daily living disorders. All regions are required to focus on critically ill and critically ill patients for rehabilitation, take rehabilitation measures for patients with different conditions and functional disabilities, classify and classify rehabilitation institutions, and carry out professional training for medical staff at different levels, special attention should be paid to strengthening the community-based rehabilitation capacity of primary medical institutions. The outpatient rehabilitation medical expenses of discharged patients with COVID-19 that meet the regulations are included in the outpatient chronic and special disease management. Discharged COVID-19 patients and their families who are eligible for assistance and need rehabilitation treatment should be included in the scope of subsistence allowance and special poverty support in a timely manner. For those who are temporarily not covered, temporary assistance will be used to ensure that everyone in need will be helped, and if there is difficulty, it will be rescued.
Britain
The National Institute for Health and Care Excellence (NICE) recommends one-stop multi-disciplinary clinics, led by doctors with relevant specialist skills and experience. The NHS has also highlighted the importance of providing multidisciplinary assessment and diagnosis in long-term COVID clinics to avoid multiple referrals to different specialists. Respiratory physicians, cardiologists, neurologists, general practitioners (primary care or rehabilitation medicine), neuropsychologists or psychopsychologists, physical therapists, occupational therapists, speech and language therapists, and nutritionists may all be needed. The NHS has also established 90 specialist long-term sequelae clinics to provide assessment and diagnosis services for patients, but only 5,000 people a month are able to receive long-term treatment for the sequelae of new coronary pneumonia.
United States
In April 2022, the Biden administration announced a plan to deal with the "long-term sequelae of the new crown", and said the problem could affect one in three people infected with the new crown. The new plan will focus on improving care, enhancing education and outreach, and advancing research.
Statement
1. This content is organized by the Clinical Support Department of Shenzhen Yingchi Technology Co.,Ltd. Criticisms and corrections are welcome. For reprint, please indicate the source.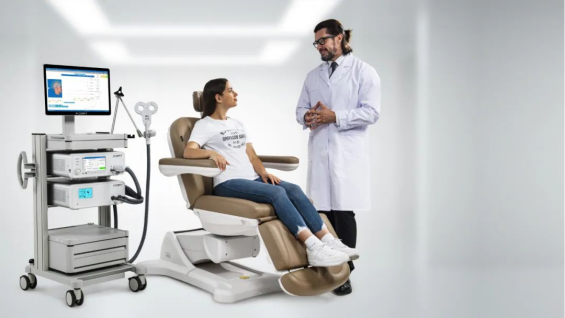 2.References:
[1] Global Burden of Disease Long COVID Collaborators et al. "Estimated Global Proportions of Individuals With Persistent Fatigue, Cognitive, and Respiratory Symptom Clusters Following Symptomatic COVID-19 in 2020 and 2021." JAMA, 10.1001/jama.2022.18931. 10 Oct. 2022, doi:10.1001/jama.2022.18931
[2] WHO reference number: WHO/2019-nCoV/Sci_Brief/Mental_health/2022.1
[3] Huang, Lixue et al. "1-year outcomes in hospital survivors with COVID-19: a longitudinal cohort study." Lancet (London, England) vol. 398,10302 (2021): 747-758. doi:10.1016/S0140-6736(21)01755-4