In September 2023, YINGCHI M-Ultimate TMS received FDA approval for the treatment of major depressive disorder in adult patients, marking a significant milestone in the company's endeavor to provide safe and effective medical solutions.
Moreover, YINGCHI M-Ultimate TMS is not only limited to clinical applications; it is also playing an essential role in advancing clinical research. By partnering with leading research institutions and experts in the field, YINGCHI is committed to exploring the full potential of TMS technology in addressing a wide range of neurological and psychiatric conditions.
---
1.Newest published research
A paper titled "Motor cortical plasticity as a predictor of treatment response to high frequency repetitive transcranial magnetic stimulation (rTMS) for cognitive function in drug-naive patients with major depressive disorder" was published in the Journal of Affective Disorders 2023(Impact factor=6.6).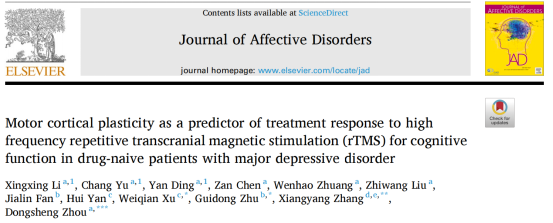 2.BACKGROUND
Few biomarkers are currently available to predict cognitive response in major depressive disorder(MDD) patients. This study aimed to examine whether cortical plasticity played an important role in improving cognitive deficits in MDD patients treated with rTMS.
3.METHODS
A total of 66 MDD patients and 53 healthy controls were recruited. MDD patients were randomly assigned to receive 10Hz active(YINGCHI M-Ultimate) or sham rTMS 5 days per week for 4 weeks. The researcher used scales to assess cognitive function and depressive symptoms, and also combined transcranial magnetic stimulation and muscle surface electrophysiological recording to measure plasticity in motor cortex areas in healthy controls at baseline and MDD patients before and after treatment.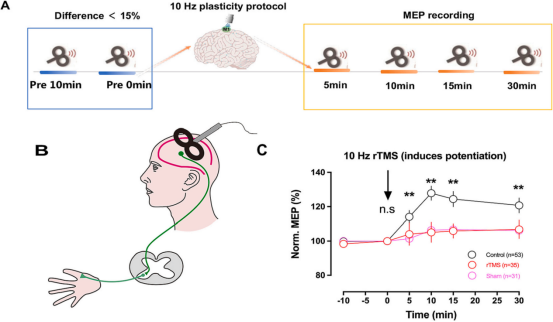 4.RESULTS
The main results of this study were as follows:
①10Hz rTMS was an effective treatment for depression symptoms;
②depressed patients had impaired cortical plasticity, which was correlated with cognitive impairment in these patients;
③10Hz rTMS produced effective treatment effects on immediate memory, attention, and RBANS total scores;
④rTMS enhanced cortical plasticity, and enhanced plasticity at week 4 was positively correlated with improvement in immediate memory and RBANS total scores.

Fig: Diminished cortical plasticity in MDD patients. A: Flowchart of the whole experiment. B: Design of TMS and MEP recordings. A single TMS pulse was delivered to the left motor cortex, and the MEP was recorded from the abductor pollicis brevis of the right hand. C: In the healthy control, 10 Hz repetitive TMS (rTMS) stimulation rapidly enhanced MEPs and the potentiated MEPs for at least 30 min, while in the depression group, evident potentiation was missing.
5.CONCLUSION
The results show for the first time that 10Hz rTMS can effectively treat impaired cortical plasticity and cognitive impairment in MDD patients and that changes in plasticity and cognitive function are closely related, which may indicate that motor cortical plasticity may play a vital role in cognitive impairment and that cortical plasticity may serve as a potential predictive biomarker for cognitive improvement in MDD patients.
---
The FDA approval of YINGCHI M-Ultimate TMS highlights the company's dedication to improving patient outcomes through innovative medical technologies. As YINGCHI continues to push the boundaries of TMS research and development, it is well-positioned to make a lasting impact on the future of mental healthcare.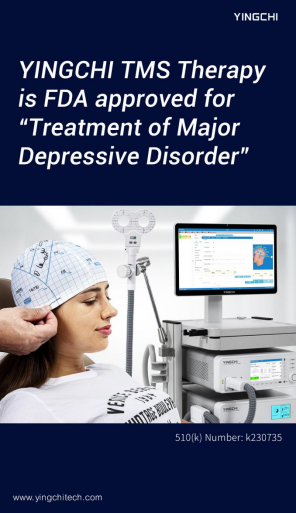 REFERENCE
Li X, Yu C, Ding Y, et al. Motor cortical plasticity as a predictor of treatment response to high frequency repetitive transcranial magnetic stimulation (rTMS) for cognitive function in drug-naive patients with major depressive disorder. J Affect Disord. 2023;334:180-186. doi:10.1016/j.jad.2023.04.085